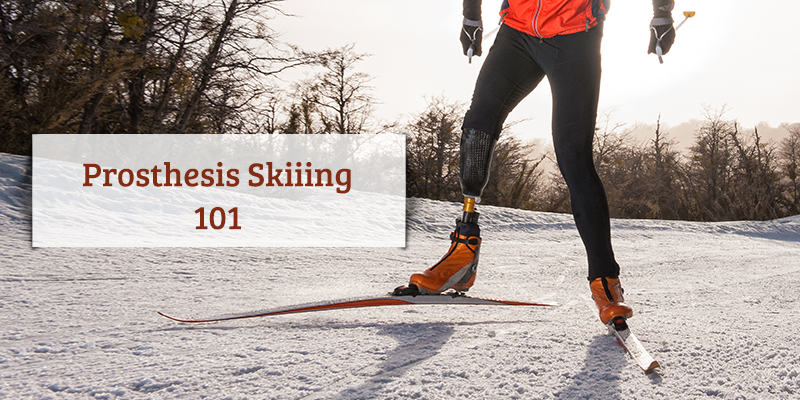 There's nothing like hitting the slopes on a sunny winter day, but if you're a new amputee, you may feel discouraged about learning your favorite sport all over again. With the right preparation, it's completely feasible to ski post-amputation. Floyd Brace would like to share a few of our favorite skiing strategies:
Sit-Skiing
If you're not able or ready to stand up while skiing, this is the perfect option for you. There's two main styles of sit-skis: bi-skis, which have a bucket with two skis, and mono-skis, which have a bucket with one ski. While the mono ski offers the best maneuvering capabilities, the bi-ski does offer the most stability.
Three-tracking
If you feel secure enough in your balance, you may want to try three-tracking. You balance your sound leg on one ski, and use poles with ski-like blades on the bottom. This allows you to ski without taking your prosthesis along, which can help you avoid any problems associated with exposing it to snow and wetness. The one disadvantage is that it places a heavy amount of stress on the sound limb. Before attempting this technique, you may want to work with your therapist to see how to best build up your strength and endurance.
Skiing while wearing a lower-limb prosthesis
Remember, your prosthesis was designed for walking, not skiing. Your prosthesis will likely require some adjustment before you hit the slopes, so be sure to check in with your prosthetist. He or she may also recommend you use an orthosis for better stabilization. For more advanced skiers, there are special devices build specifically for this sport, such as a foot that clips directly onto the ski and doesn't require you to use a boot to ski.
Upper-limb amputees
When you're first starting out, it's a good idea to get an adaptive device that allows you to grip the pole. After a while, you may not need it at all. It's not uncommon to see upper-limb amputees who are advanced skiers go without them. Before you even attempt to ski with your prosthesis, however, make sure that you take extra precautions to ensure it doesn't get wet.
At Floyd Brace, we want to help. We can make any adjustments you need before getting back into this winter sport and we'd love to answer any questions you have about hitting the slopes after amputation.