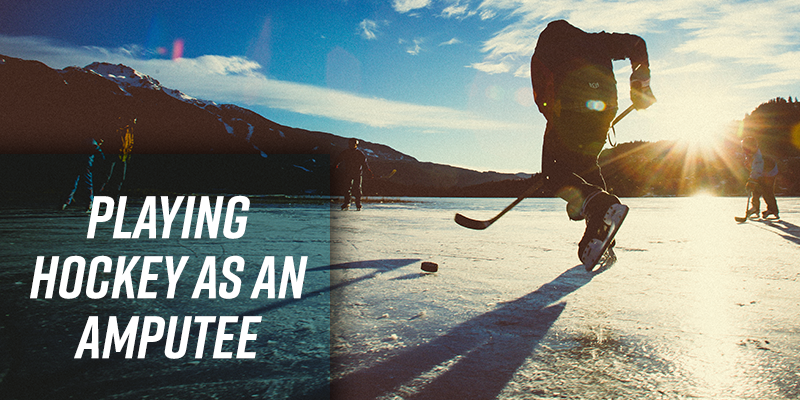 If you were on a sports team prior to your amputation, chances are you're looking for a way to be involved with one again. Hockey in particular offers a couple different options for amputees to participate in. There are two types that you can enjoy—sledge hockey and standing hockey.
Sledge Hockey.
Officially knowns as para ice hockey, this sport allows lower-limb amputees to navigate the ice on a sledge. This sledge is made up of two skate blades on a metal frame, which allows the player to maintain a maneuverable sitting position.
This sport is officially recognized and governed by the International Paralympic Committee. A number of cities throughout the United States have sledge hockey teams, so this can also be a great way to meet fellow amputees in your area.
Standing Hockey.
This version of the sport is played more like regular hockey. Players are upright and wear ice skates at the bottom of their prostheses. Some incorporate their equipment into their prosthesis, such as affixing the stick the end of an upper-limb prosthesis or a skate at the bottom of a lower-limb prosthesis. If you have a microprocessor knee, we may even be able to adjust it for you so that it locks out at certain angles.
Getting involved.                                                                                    
If you're looking to become involved in a local amputee hockey team, don't hesitate to ask your friendly prosthetists at Floyd Brace! We can help you contact the team closest to you.
Another great resource is the Find a Club section of the U.S. Paralympics website. By typing in the name of the sport you wish to join, it will bring up the team closest to you.
Here at Floyd Brace, we know that once a hockey player, always a hockey player! If you're planning to join an adaptive sport this winter, make an appointment  with us today. We want to ensure that your prosthesis is in tip-top shape before you hit the ice!