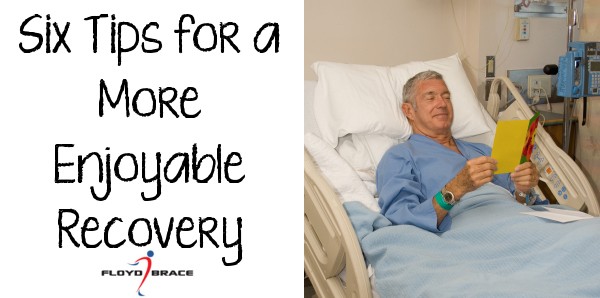 Life throws us curveballs we can't always prepare for. Many people experience injury, illness or accidents that lead them to the hospital. While these events can catch us off guard, there are people trained and ready to assist when they are called upon. Floyd Brace is trained and prepared to provide you with the appropriate orthotic or prosthetic intervention when life hands you the unexpected. We hope to provide the most modern and up to date products along with trained experts to assist in the process.  Surgery is common before and after receiving prosthesis. It is almost always followed by a long period of recovery that can be uncomfortable and boring. Here we would like to provide you with six ways to have a more enjoyable recovery.
Pamper yourself with a bubble bath, facial or manicure. Your body has been under a lot of stress and deserves special treatment.
Make a list of all cards and gifts received during your difficult time. Take time to hand-write thank you letters to everyone who has supported and helped you.
Clean out junk drawers filled with useless items. Make piles to sell, donate or throw away. Simplifying your home will help you feel more organized and your home to appear neater.
Collect your family's favorite recipes and combine them into one cookbook. Have copies made and distribute them to your family members. They will appreciate having all their favorite meals in a book for themselves.
Find NEW recipes to try on Pinterest. This website is filled with creative and fun meal ideas.
Download a book on tape for easy listening at home or in the hospital. It can provide entertainment and allow you to rest at the same time.
Undergoing surgery can be a difficult time. We hope you have a successful experience followed with an enjoyable recovery. Floyd Brace Orthotics & Prosthetics have experts ready to assist you with your orthotic and prosthetic needs. Visit our site to read about our services and practitioners.
Tags:
enjoyable recovery